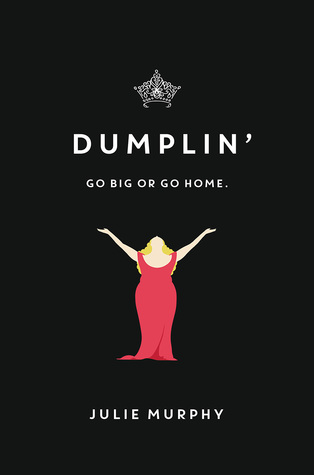 Title: Dumplin'
Series: Dumplin' #1

Author: Julie Murphy
Pub Date: 2014
My Rating: ★★★☆☆
View on Goodreads | Buy on amazon.co.uk |amazon.com | Book Depository | Wordery
---
Synopis from Goodreads:

Self-proclaimed fat girl Willowdean Dickson (dubbed "Dumplin'" by her former beauty queen mom) has always been at home in her own skin. Her thoughts on having the ultimate bikini body? Put a bikini on your body. With her all-American beauty best friend, Ellen, by her side, things have always worked…until Will takes a job at Harpy's, the local fast-food joint. There she meets Private School Bo, a hot former jock. Will isn't surprised to find herself attracted to Bo. But she is surprised when he seems to like her back.

Instead of finding new heights of self-assurance in her relationship with Bo, Will starts to doubt herself. So she sets out to take back her confidence by doing the most horrifying thing she can imagine: entering the Miss Clover City beauty pageant—along with several other unlikely candidates—to show the world that she deserves to be up there as much as any twiggy girl does. Along the way, she'll shock the hell out of Clover City—and maybe herself most of all.

With starry Texas nights, red candy suckers, Dolly Parton songs, and a wildly unforgettable heroine—Dumplin' is guaranteed to steal your heart.
 Dumplin' is a lighthearted story and a nice read. But it's not amazing. I like reading it, well, listening to an audiobook, but the story wasn't that interesting, and I was just getting bored at times. I was hoping for more funny moments. However, I'm happy I read this book and I'd recommend you to read this book. Mainly because of the characters, who are unique and diverse, and you rarely read about such characters.
The main character is Willowdean. She could be like any other character, but she is fat. And that distinguishes her and this book from all the contemporary YA novels. I have mixed feelings about Will. There were moments when I really liked her and moments when I really disliked her. But throughout the story, I could relate to her. First, she is not perfect, and she is not immune to being mean and judgmental. I may condemn such behaviour, but I'm also not immune to it. We all sometimes are mean and judgmental, no matter how much we try not to be. Secondly, Will is fat, and I'm also fat. Parts of book that talk about her body and how she thinks about it, and how it affects her life, especially her love life, were the most precious parts of the book for me because those were painfully true to me, and I could understand. In those moments I could fully understand how important diversity is in books because nothing can replace the feeling of seeing a person like you in a book, of reading about her struggles of being of certain body type, nationality or else. The third thing that helped me relate to Will so well, was her relationship with her mum. Will is fat, and her mother is slim, and remaining slim is really important to her. And she cannot understand why being slim is not important to her daughter. She loves Will very much, but still is unable to look at her and wonder how better her life would be if she just loses some weight. I could understand Will's relationship with mum very well.
I'm glad this book exists, and I hope it will help a lot of fat girls to feel better about themselves and their bodies and will help them figure out their relationship with their mothers and friends, and potential love interests. It's not the most riveting story, but it's entertaining and emotional in parts. I'm not impressed with the book ending, and I'm not impressed with Will's love interest, I'd prefer to see her with another character from the book that in my opinion was kinder to Will.