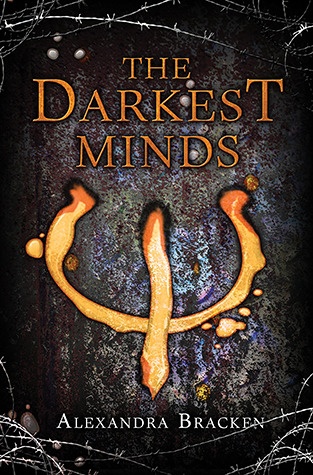 Title: The Darkest Minds
Series: The Darkest Minds #1
Author: Alexandra Bracken
Pub Date: 2012
My Rating: ★☆☆☆☆
View on Goodreads | Buy on amazon.co.uk |amazon.com | Book Depository | Wordery
---
Synopis from Goodreads:

When Ruby woke up on her tenth birthday, something about her had changed. Something frightening enough to make her parents lock her in the garage and call the police. Something that got her sent to Thurmond, a brutal government "rehabilitation camp." She might have survived the mysterious disease that had killed most of America's children, but she and the others emerged with something far worse: frightening abilities they could not control.

Now sixteen, Ruby is one of the dangerous ones. When the truth comes out, Ruby barely escapes Thurmond with her life. She is on the run, desperate to find the only safe haven left for kids like her—East River. She joins a group of kids who have escaped their own camp. Liam, their brave leader, is falling hard for Ruby. But no matter how much she aches for him, Ruby can't risk getting close. Not after what happened to her parents. When they arrive at East River, nothing is as it seems, least of all its mysterious leader. But there are other forces at work, people who will stop at nothing to use Ruby in their fight against the government. Ruby will be faced with a terrible choice, one that may mean giving up her only chance at having a life worth living.
First of all – the cover. I think this it is the first time that I like the Polish cover better than the original one. I checked this book out from library, and this is how the book looked like:
I think it works much better for the story than the original one. What do you think?
This was the nice part, now I'll talk why I didn't like this book. First of all – the writing. I read Polish translation and it is horrible. I cannot judge how I'd like the writing if I read the book in English, but the translation is horrible. But it cannot be all the translator's fault. The writing is forced and stiff, I was painfully aware of how the sentences were constructed, and what wording was chosen. This is not a good trait in a book. The conversations among characters were definitely the worsts parts. They felt awkward and unrealistic. No one talks like that, not even people who are awkward in conversations. I was cringing so often when I was reading the group of teens that are on a run talk – there is just no way those will happen like that in a real life. Ugh, just no…
The story follows Ruby. We meet her at 10 when she is taken into the 'rehabilitation' camp, that will 'cure' her from her unusual illiness that is spreading among teens in America. The early world building is presenting us with the world on a verge of chaos when special forces are taking children to camps to isolate them from general populations because they have special powers that they and people around them don't understand. Basically, everyone freaks out, because of the huge, terrifying unknown. We get to know just a little bit of life in the camp because the story jumps to when Ruby is sixteen and she is escaped from the camp. And this, with a little bit of a fuss, marks the beginning of the road trip. Ruby joins Zu, Liam, and Chubs, other kids that escaped their camps, and they all start looking for East River, a magical place where kids like them can live safely.
Ruby is the most annoying character I read about in a long time.I couldn't stand her. She whines a lot. And at the beginning I was trying to be empathetic, after all, she just spent six years in a camp, where she didn't get any education and was treated horribly. She didn't have much chance to considerably grow metally, and a little bit of a ten-year-old is still in her. As much as I tried, I couldn't feel the empathy and understand Ruby. There wasn't enough of introduction to the world of the camps, to what was happening to them. The beginning was choppy, and I couldn't connect to the MC and start caring for her. Ruby constantly reminds us how she thinks she is not worthy of being escaped from the camp, and then she is not worthy her new companions trust and friendship. She also constantly reminds us how much of a monster she is, and how her friends should just abandon her in a forest because she is such a danger. It was so annoying to read, when Ruby was thinking that she stayed with the group to protect them, even though she just a few pages ago though that she is such a danger for the group. And she wasn't really doing anything to protect them, so I had really no idea what she was talking about.
The story was boring, there were some fights or some action scenes added, but there didn't make sense for the overall story. I don't know why they happen. They had no consequences for the story. There is also a romance. I feel uncomfortable even thinking about it. I didn't feel any chemistry between them, I felt like it was forced and it's beyond me how it even happens.
I didn't feel connected to any of the characters, besides Ruby, there is Zu, Liam, and Chubs. And yeah, they are nice. But I didn't care about them anyway. There were just there, a group of people that our 'brave' MC has to take care of and rescue.
After reading the whole book, I'm still unsure of the different powers the kids have. There is no mention of why something like this happened, what is the cause of the illness. What experiments there were making in order to find a cure or just a cause of the illness?! There are no answers to any of that. Anyone read the whole series and can tell me if there are answers in next books?
I initially gave this book a 2-star rating. For some reason, I felt that this is a 2-star read, not a 1 star. But now I seriously cannot tink of anything that I like and could justify give 2 stars. So one star it is.